Organic Coconut Butter Stone Ground - 300g Glass Jar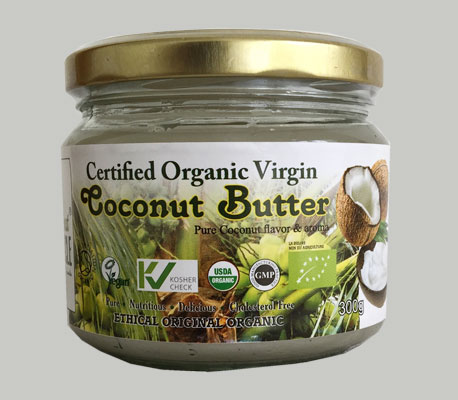 Description :

Coconut Butter is specially made for spreading, salad dressing, cooking and for many applications.
Ideal for Baking - Cooking - Eating - Just Spreading. Coconut Miracle natural butter is a silky smooth creamy spread with a delightful coconut flavor which is rich in beneficial nutrients including minerals, fiber and 'good fats'.

Quality
Color and Appearance: Creamy, white, consistent smooth paste
Flavor and Aroma: Sweet coconut aroma and flavor

Weight : 300g

Moisture - 3 max.
Crude Fat 61- 72% max.
Carbohydrates 8 ? 18% max.
Crude Proteins 8% max.
Proteins - 8% max.
pH 6.1-6.7

Storage
Store in a clean, dry place at ambient temperature and away from direct sun light. This product will solidify and become cloudy below 25 oC. Before dispensing, gradually thaw above melting point. Stable up to one year from production date.

NOP. USDA ORGANIC, HACCP, GMP, U.S.FDA, ISO:22000, JAS and EU certified manufacturer.